Happy Birthday Miss Em!
It was beautiful Miss Em's birthday yesterday, so a group of us went to Mocean right on Bondi Beach for a most amazing lunch... ahhh to live so close to the beach! So it was only right to order seafood - I had the Tuscan Seafood Casserole, while across from me, the lovely Tara had a seafood spagetti with chilli, yum. Check out our before pics:
then the after pic - nothing left but a mountain of empty shells:

After many champagne hours (literally!) it was time for a hop skip and jump back up the street to Em's house in Tamarama.. with a beautiful view of the ocean right in her living room, I could get used to spending lazy Saturday afternoons not leaving the house! And while we did stay inside, everyone's attention soon turned to the AFL footy grand final. Everyone except Em and I, that is - we busied ourselves in the kitchen preparing drinks and putting her bday flowers in water! You know, I can appreciate the sport, but it's just not for me :)
Check out the girls completely absorbed with the TV action... while Em and I play with flowers: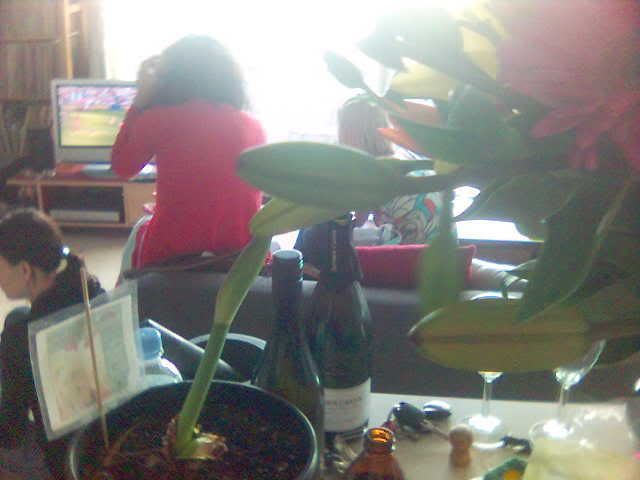 The day was perfect as I also got to have a great chat with Tara - time really flies and it's just been too long since we managed a nice, long talk, face to face. She got me all inspired and in keeping with my 'spend my 30th bday overseas' idea, I'm all set to go to Nonesuch in New York next year - that's the plan anyway. Tara and I are such music nerds and spent a good hour talking about it all - she actually used to work at Nonesuch so I'm very envious!
All up it was just a glorious day to spend with my girls, and just what i needed to keep my mind busy and my heart happy - Happy Birthday beautiful Em, and here's to many more.
xxxx